How a Bombastic Snow Storm Leads to More Social Media Fans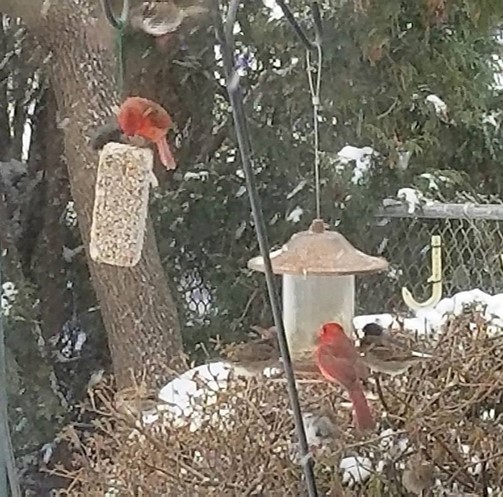 A social media marketing gift from heaven landed in our backyard this morning.  OK, so it's what the weather stations are calling a BOMBASTIC SNOW STORM. Roads are closed, most everything is shut down, but savvy small business owners know it's the perfect time to connect with social media fans and visitors. More people are scrolling through their social media feeds more often on these snowy days. That's really good news for social media marketers because it's the perfect time to build brand awareness with a behind-the-scenes post or two on your social media pages.
You can easily increase your Brand Awareness by occasionally giving your social media fans & visitors an insider's view of what you and your team are doing behind the scenes. Studies show that humans have a basic need to feel like they know you are a real person. And these days, when con artists are lurking at every turn people need to know you're a real person living in a real place living a real life and not just a greedy fake persona out to con them into a shady deal.  People also gravitate
to others who like or are experiencing the same things.  It brings us closer and strengthens our relationships. In business we call that developing affinity with our ideal customers. It increases brand loyalty because it affirms your fans likes and preferences.
So how does it work.  Easy peasy. Here's how we harnessed the power of a BOMBASTIC SNOW STORM to attract new fans, get more LIKEs, and strengthen brand loyalty.
During our coffee break this morning two bright red cardinals and dozens of other little birdies came to visit our backyard bird sanctuary on this brutally cold snowy day. We clicked a phone pic from inside our cozy office and shared it with Facebook and Instagram fans to give them a behind-the-scenes view of what's going on around here today.
We added a brief emotionally touching message and encouraged fans to share their own pics in the comment section.  Inviting your fans to join in the fun by encouraging them to share pics of their own is a playful way to give you opportunities to chat and it make fans feel more like friends.
Want more fans to post in your comment section?
Giving them a little incentive by offering a chance to win something.  Here's what we posted today. . .
"Look who stopped by to visit us here at Growthology Hub on this bombastic snow day!  Two bright red cardinals, a few gray doves, and dozens of our other feathered friends. They sure seem to be enjoying that chunky birdseed block on this cold January afternoon.  We'd love to see what's going on in your backyard on the snowy afternoon.  We're giving away 3 FREE 10-packs of our most attention-grabbing Wintry Good Morning copy-and-paste pics to spice up your Facebook and Instagram pages today. Just post a pic (in the comments below) of how you're spending this snowy day for a chance to win."
That's it. You're ready to start looking for those fun behind-the-scene moments to share with your social media fans.  For more social media marketing tips, stop by our Facebook and Instagram pages or visit our blog at https://growthologyhub.com/blog/ .