When the Time is Ripe, Treasures Will Drop into Your Hands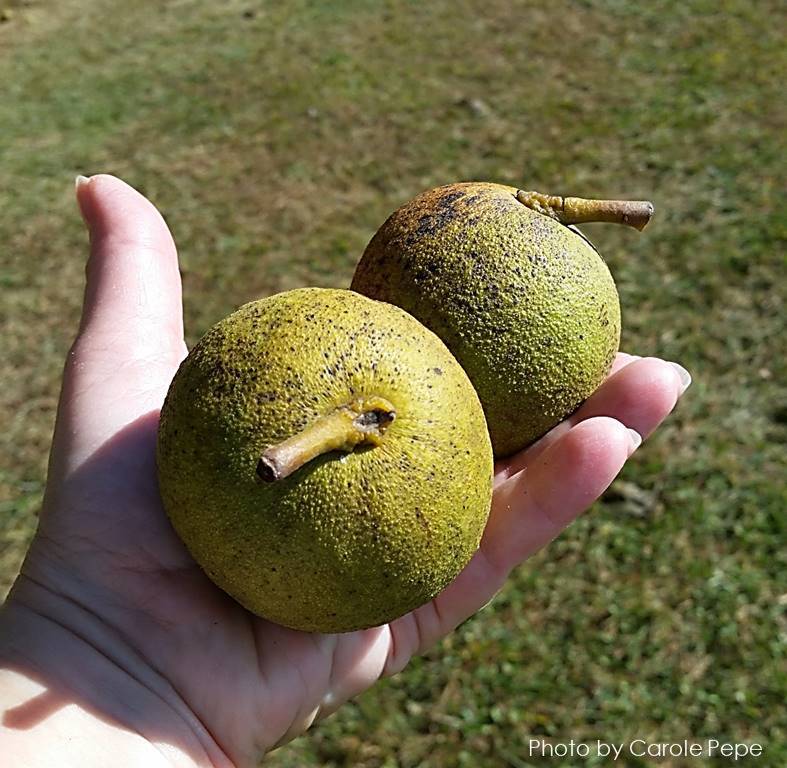 Something struck me this morning.  It all happened as I'd turned the bend to start the second lap of my daily hike around the track at the park up the street.  It was nine-fifteen in the morning. The sun was shining. There was a light breeze and although it was early October here in Pennsylvania the big red arrow on the park thermometer pointed to eighty-four degrees. The brilliant sunshine and steamy temperature had the look and feel of mid-August. I had to remind myself that it really was fall. That's when it hit me. Something fell from the sky and bounced off my head.  After a bit of fumbling, I managed to grasp the thing.
As I examined the spongy greenish-gold orb, I was wondering who would have decided I needed to get my heart pumping a bit faster this morning.  All the other hikers were far on the other side of the quarter-mile track. So, it definitely wasn't one of them. There wasn't anyone else around.  Looking up, I noticed that this side of the track bordered on a thick patch of natural woodland punctuated with a line of black walnut trees. As I stood there assessing the situation, it happened again. Clunk.  Then, clunk, clunk.  The recent heatwave may have done the trick because, overnight, the black walnuts had ripened and were falling from the treetops. Ahh, I thought, "Treasures from heaven."
After placing the fallen nuts on the grassy hill beside the track, I resumed my second lap around the track.  That unexpected event had me musing about why that crazy nut waited for just the right moment to crack my noggin today.  That's when it occurred to me that the best treasures often drop right into your hands. They do however need to be nurtured and you do have wait for them to ripen.
The truth is that those black walnuts had been growing bigger and bigger all summer. Those plump nuts had been weighing down the tree branches for over a month but the tasty treasures were still out of reach. It wasn't until they were ripe that they fell right into my hands.
It occurred to me that the secret to brand awareness and marketing for small business works much the same way.    Without sunshine, fresh rain water, and essential nutrients there wouldn't be a fall harvest.  It's the same way with both personal and business relationships. The most successful small business owners know that harvesting sales depends on their ability to nurture supportive relationships with their ideal customers.  That takes time and near daily support.  In the past, it was easy enough for business owners to smile and shake hands with dozens of people every day.  Technology and our fast-paced culture have changed all of that. These days, more people are using social media to stay connected to friends.
This new online cultural has left a lot of small business owners out of the everyday social scene.  They haven't made the evolutionary leap needed to master the 21st Century social-side-of-business.  They're either afraid to venture into the new world of social media, they pay some agency to talk for them, or they post a monotonous nightmare of 'Buy-My-Stuff' mess.  The problem is that doesn't encourage engagement or nurture relationships.
The answer to how to nurture those relationships needed to get those treasured sales falling into your hands is simple – Social media for small business. You can use it to spread good will by sharing smiles and uplifting thoughts with your fans every day.  To nurture your relationships, give fans what they want and need like advice or gifts that they can use. You can make your fans feel special by giving them a behind-the-scenes peek at what you or your team members are doing from time-to-time. And, occasionally inviting your fans to celebrate your achievements like awards you've received or a great testimonial solidifies your relationship because it demonstrates social proof of your professional credibility.
The social landscape has changed. Social media for small business is the answer to greater brand awareness and social sales. The big surprise for many small business owners, who rock the social-side-of-business, is that as they grow their online social network they're having a lot more fun interacting with people who resonate with their products and services. And, the best part is that as the number of their fans grows those heavenly sales are falling right into their hands too.